Dartford's Best Hog Roast Caterer
Spitting Pig Dartford is the most talked about provider of delicious and aromatic hog roast catering in the Dartford area and throughout Kent. Our superb range of tantalising mains and sides not only delivers on portion size and incredible juicy flavours, but we like to think we know a thing or two about delivery and presentation – our gleaming stainless-steel hog roast machines and professional buffet setup never fail to make an outstanding and lasting impression.
Spitting Pig Dartford brings over 10 years of party catering experience to each and every event on our calendar. If we've learned one thing from customer preferences and venue size in that time, it's that no two parties are ever the same. From back garden get-togethers with platefuls of light bites and BBQ foods, to sports halls and fields filled with hungry revellers wanting seconds, thirds, and fourths at the buffet, we have the tailored options to make your dream happen.
Spitting Pig Dartford – Our Services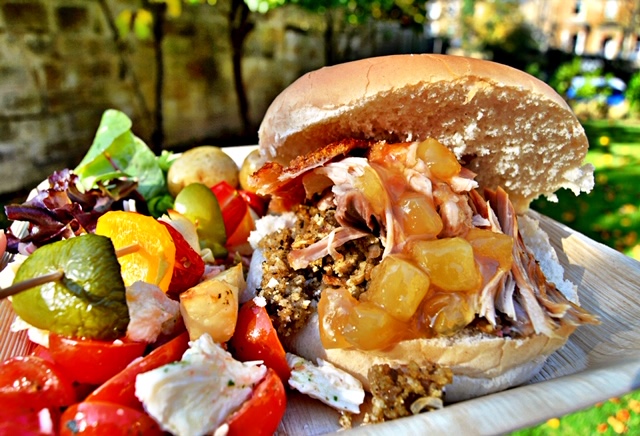 Our chefs and event staff love to hear your ideas on how you want to plan your group dining hog roast experience. Whether you've already completely planned your event or celebration on paper, or whether you'd like some guidance on how to get the most out of hog roast catering, we can help. Speak to us today about your plans and find out how we can deliver the perfect hog roast catering experience on time.
Spitting Pig Dartford services include:
Staffed events – catering staffOur professional waiting staff provide a table service that gives you freedom to stay seated and enjoy the company of your guests at mealtimes.
Drinks ReceptionLet your guests know they've arrived with a little help from our professional drinks reception service – we'll meet and greet your guests with drinks and appetisers.
Tailored Menu ChoicesWe'll help you to put together a varied choice of menu options that caters to all of your guests tastes – mix and match between our set menus and even add your own foods.
Ingredients Local & Fresh
Over our many years of dedicated hog roast experience, we have established an in-depth network of trusted produce vendors. When you choose Spitting Pig Dartford for your next event or celebration, you will benefit from our extensive knowledge of seasonal meats and vegetables. No matter whether your party is planned for the summer or winter months, we'll help you to put together a range of menu options that includes the tastiest local ingredients.
Extra Menu Options – Hog Roast Accessories
Our hog roast accessories are designed to help you to expand your menu with ease. Whether you're looking to add extra mains to your menu or whether you're looking for finger foods to help keep your guests happy between courses, we can help.
BBQ AccessoryThe BBQ accessory fits neatly on top of the hog roast oven, meaning you can offer burgers and hotdogs (and much more) while the hog meat slowly roasts to perfection.
Spit Roast AcademyOur spit roast accessory can roast up to 36 large chickens – or perhaps you'd prefer legs of beef, sides of lamb, or even large cuts of fish.